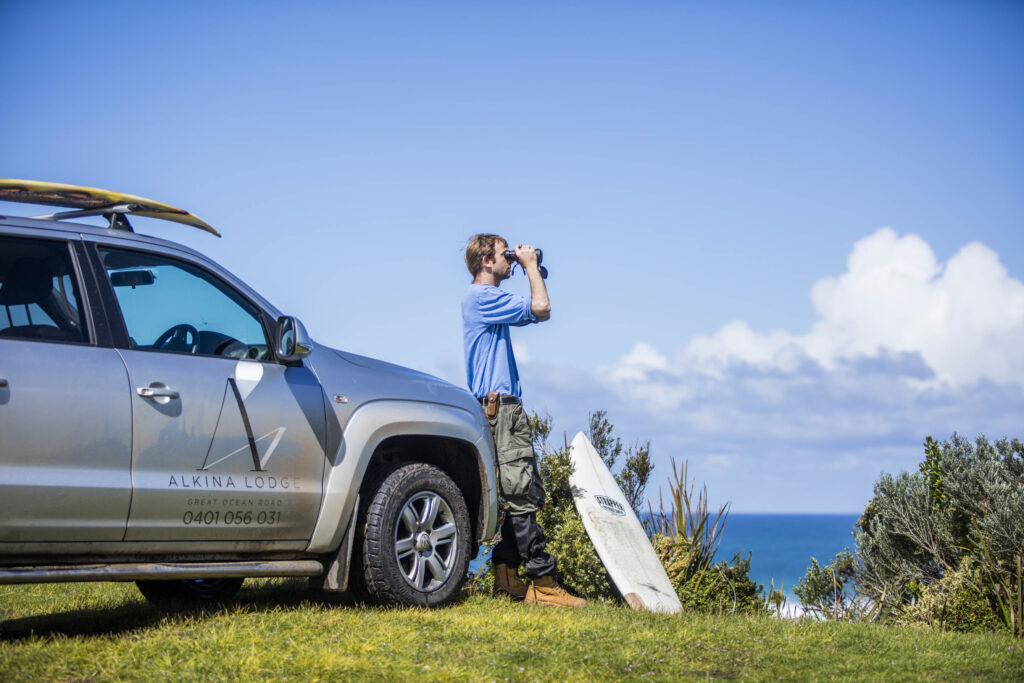 Port Campbell National Park is renowned the world over for its spectacular wind and wave sculpted coastal rock formations.
You've probably heard of the Twelve Apostles. They are one of the most popular tourist attractions in Port Campbell National Park, and are also one of Australia's most iconic landmarks. But there's so much more to port Campbell National Park than the Twelve Apostles. Read on for all you need to know.
Where Is Port Campbell National Park?
Port Campbell National Park is situated in Victoria, about 200kms south-west of Melbourne.
How Do I Get To Port Campbell National Park?
If you're coming from Melbourne, it's about 3 hours drive (with no stops). As there's such a lot to see and do here we always recommend you stay overnight for at least a couple of days to get the most out of the area. 
Alkina Lodge is the closest luxury accommodation to Port Campbell National Park – it takes around 20 minutes to drive to top sights such as the Twelve Apostles. Book online here.

What Are The Top Sights in Port Campbell National Park?
There are so many incredible things to see here. If you have limited time, we've put together a list of all the must-sees. All are within an easy drive of Alkina Lodge. 
1. The Twelve Apostles
Top of our list is the Twelve Apostles. They are a series of limestone stacks which rise out of the ocean along Victoria's coastline. The 12 Apostles were formed over 20 million years ago and were in fact once connected to the mainland. Over the years the power of the wind and waves has eroded them and shaped them, first carving them into caves, then arches, and finally into the offshore stacks they are today. We've written more about the 12 Apostles on our blog so if you'd like to read more about this iconic spot please click here.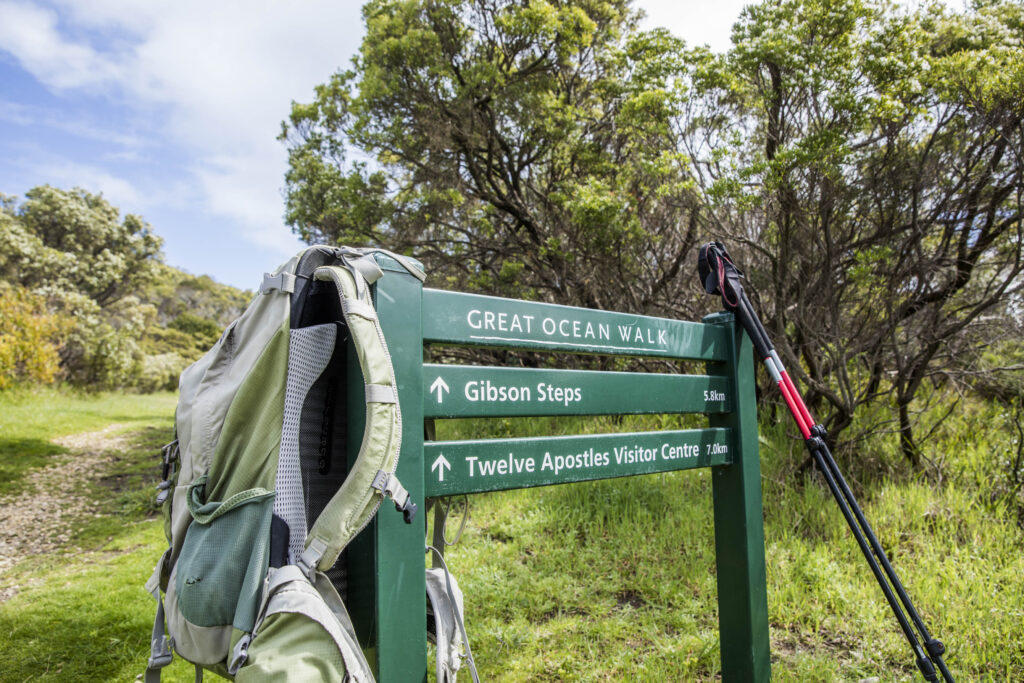 2. Loch Ard Gorge
Not too far away from the Twelve Apostles you'll find Loch Ard Gorge, another of Port Campbell National Park's most iconic sights. The history here is fascinating: in 1878 a clipper ship was beached on nearby Muttonbird Island. Only two of the 54 passengers & crew survived – crew member Tom Pearce was washed ashore and rescued passenger Eva Carmichael after hearing her cries for help.  Today you can walk down to the pretty beach and see the cave where they took shelter. If you're interested in the shipwreck history of the region, click here to read more.


3. London Arch
London Arch is a very pretty and popular photo spot in Port Campbell National Park. Once upon a time, this rock formation was known as London Bridge and it was connected to the mainland. But in January 1990, London Bridge fell down.
The event made headlines as two terrified tourists were marooned on the resulting island. Thankfully they were not injured and were rescued by helicopter fairly quickly.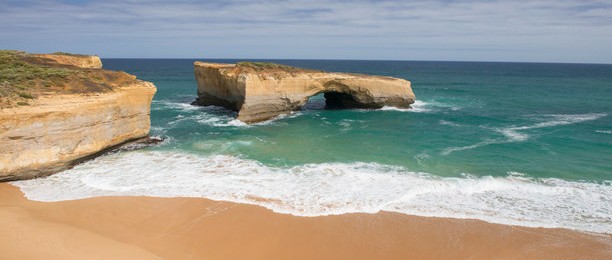 4. The Grotto
One of the most Instagrammed spots in Port Campbell National park, the Grotto is so pretty it's hard to find the words to describe it. It's a sink hole where the limestone cliffs have fallen away and the result is a peaceful and enchanting combination of part-cave, part-blowhole.
Steep stairs lead down to the cave formation but for the best view go to the lower viewing platform as you can see everything in one go from here – the rock formations, the pools and the horizon.

And definitely don't forget your camera!

5. Gibson Steps & Beach
For a different perspective of the 12 Apostles, follow the Gibson Steps down to the beach. These 86 steps were carved by hand into the cliffs by 19th-century landowner Hugh Gibson (but were more recently replaced by concrete ones and a handrail for safety). Once on the beach, you'll probably feel quite humble as you look up at the towering cliffs, surrounded by thundering waves and the foaming ocean. It's well worth the effort – despite the climb back up!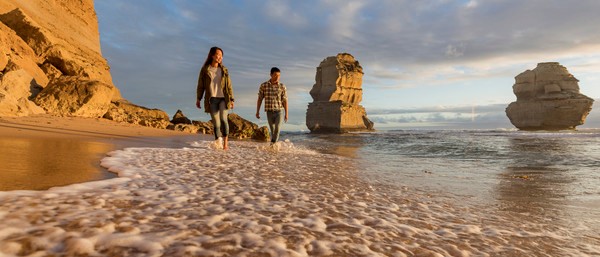 We'd like to spend extra time exploring Port Campbell National Park. What else should we see and do?
Go Walking
If you have the time we'd suggest you take the time to explore some of the park's walking tracks. At Loch Ard Gorge there are three easy tracks, each with interpretive signage. The Geology Walk is just 1km – it's a self-guided walk where you'll learn more about the natural forces  that have shaped the coastline. The Shipwreck Walk follows the story of the Loch Ard shipwreck site and takes you to the cemetery. Finally, " Living on the Edge" is a slightly longer (3.2km return) walk which encompasses the Muttonbird Island viewing platform, Thunder Cave and Broken Head.  
There's also the Port Campbell Discovery Walk, a 4km track which offers wildlife spotting opportunities and fabulous views to the 12 Apostles.
Take A Dip

Port Campbell National Park is home to a very wild stretch of coastline and there are few options for safe swimming. However, if you get a fine day, the inlet at Loch Ard Gorge is protected somewhat from the ravages of the ocean, and can be a good place to take a dip.
Thunder Cave

Drive up to the Thunder Cave car park and while away some time watching the water rushing into this narrow gorge  and then listening to the loud, echoing "boom" every time it tries to flow back out again. It's another example of how powerful Mother Nature can be and it can be completely engrossing.
Will I see any native wildlife in Port Campbell National Park
If you're lucky, yes!
The national park is home to a rich variety of wildlife, but you'll need to be patient and watch closely. Dawn and dusk are two of the most likely times of day to catch a glimpse of some of our native residents – if you plan it right you might be able to combine sunset or sunrise at the Twelve Apostles with a bit of wildlife spotting.
The magnificent Eastern Grey Kangaroos and Black Wallabies are commonly seen here, and they are more likely to be active and feeding at dusk and dawn.
(And if you're staying at Alkina Lodge, you're very likely to also see kangaroos and wallabies right outside your bedroom window. If you're really lucky, you might even spot a joey in a pouch!)
Also at dusk, you may be treated to a view of the little fairy penguins waddling back into shore in Port Campbell National Park. If you are at the Twelve Apostles at sunset, stay a little while longer and watch the shoreline closely – they usually appear 10-20 minutes after the sun has gone down.
Bird watchers will be richly rewarded and a highlight is the hundreds of Muttonbirds which are usually seen returning to their burrows on Muttonbird Island (in the evenings between September and April.
Finally, watch for echidnas on the edge of the paths and roadsides. Echidnas are covered in fur and spines and have a distinctive snout.

How Much Does It Cost To Visit Port Campbell National Park?
There is no charge to view the Twelve Apostles or any of the other attractions in Port Campbell National Park.
When's The Best Time To Visit?
Port Campbell National Park is open year round, and can be visited at any time of year. If you want to avoid the crowds, it's best to travel in the winter and avoid public holidays.

Early in the morning is also a great time to visit the key sights as the tourist buses from Melbourne won't have arrived yet and the early morning light can be great for photography.
Do You Have Any Tips for Taking Good Photos?
Port Campbell National Park is a photographer's paradise, and it would be hard to spend time here and not capture that perfect Instagram photo! For tips and advice about photography click here to read our blog post about photography on the Great Ocean Road.
What Do I Need To Bring With Me?
This part of Australia is very exposed to the elements. Make sure you've got the right clothing – layers, waterproofs and good walking shoes are essential, and don't forget your sunscreen.
The Visitor Centre Kiosk is open from 10am – 4:30pm and provides a basic range of refreshments including tea, coffee and snacks & confectionary. But if you're planning to spend the whole day here we'd recommend you bring plenty to drink and some food. If you're staying at Alkina Lodge, we can arrange a picnic hamper for your lunch – click here for details.
It also goes without saying that you need to bring a camera!
Where To Stay
Alkina Lodge is the closest luxury accommodation to the Twelve Apostles and is within easy driving distance of Port Campbell National Park. There are three lodges, each architecturally designed. Each lodge comes with four bedrooms, a designer kitchen and a magnificent Villeroy & Boch bathtub. Book online here. (+61 3 5348 2008)