All travel comes with a touch of adventure, and some travel also comes with a touch of luxury – and the two together make for a great trip!  At Alkina Lodge we've got the luxury, but if you're also seeking a little bit of adventure the Great Ocean Road has no shortage of options for you.  
Our guests can enjoy a variety of adventure travel activities locally, ranging from zip lining to skydiving to surfing and more. Once you've experienced your adrenaline rush, there's nothing better than returning to your luxury accommodation to relax and indulge yourself.  Alkina Lodge has an enormous Villeroy & Boch bathtub for you to relax in, and beds with soft feather pillows for you to sink into at night. Bliss!
In fact, staying at Alkina Lodge can be quite an out-of-the-ordinary adventure travel experience in itself. You'll be completely immersed in nature, as our lodges are set in over 100 acres of quintessential Australian bush and are surrounded by native wildlife. There are bush walks right on our doorstep, we also have mountain bikes available for guests, and our manager Jordan has a wealth of knowledge and skills to personally mentor guests on their adventure activities.
For all the thrill seekers out there, here are seven adventure travel activities on the Great Ocean Road which are guaranteed to get your heart pumping! 
Helicopter Flights
Fly high over the ocean and get a birds' eye view of our stunning coastline with 12 Apostles Helicopters .  This is a truly breath-taking way of experiencing the Great Ocean Road. If you're coming here for a special occasion or you just want to treat yourself, this is the option for you.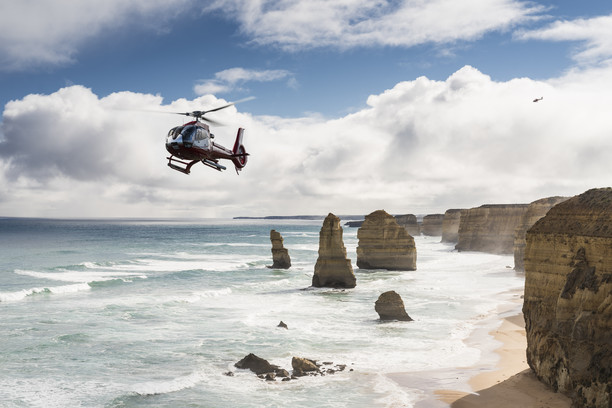 Otway Fly Zip Line
The Otway Fly Zip Line tour is an adrenaline fuelled activity for true thrill seekers. You'll fly across the leafy treetops of the rainforest, from one platform to another 30 metres above the forest floor. Book online at www.otwayfly.com
Mountain Biking
Here at Alkina Lodge we have mountain bikes available for our guests so you can explore the area. For a longer day out, the small town of Forrest is known by many as Australia's top mountain biking destination and is only a short drive away. There are over 50kms of trails to suit all abilities, right from beginners up to serious mountain biking fanatics.  The trails beautifully showcase the spectacular surrounding Great Otway National Park.  For more info see  rideforrest.com.au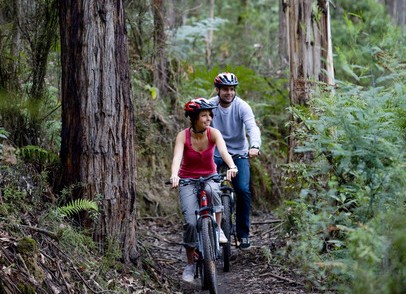 Scuba Diving
There are some fantastic dive spots along the Great Ocean Road. As well as exploring the rocky reefs, caves and sponge gardens, you can also see the shipwrecks S.S. Casino (which sank in 1932) and the Fiji (which ran aground in 1891) – the remains include chains and anchors, gin bottles and ceramic toys.  Book with Surf n Fish in Apollo Bay.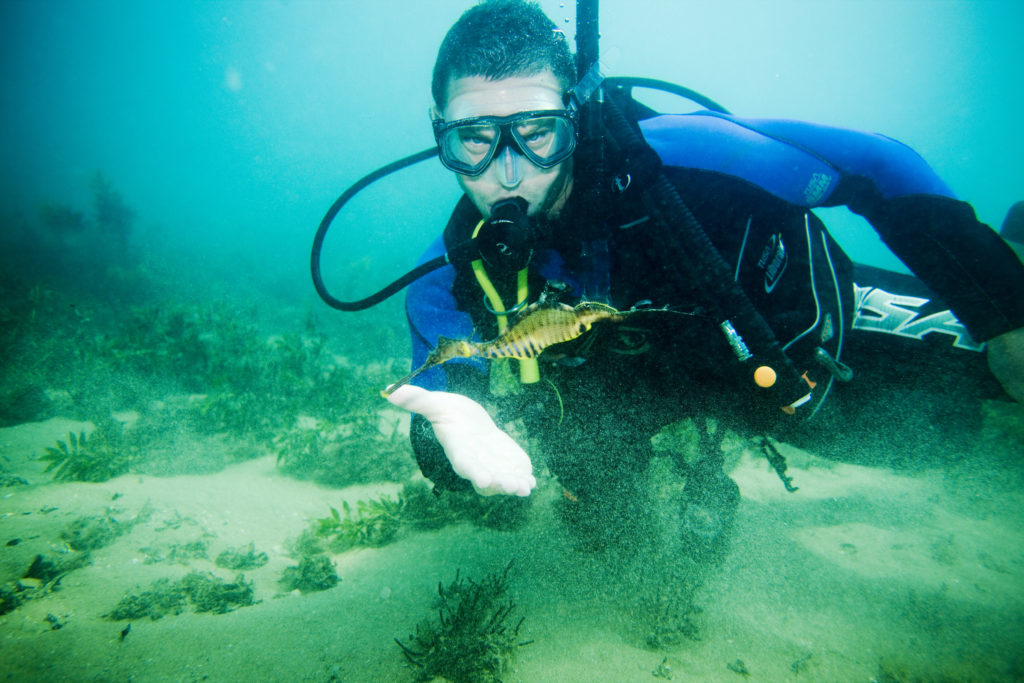 Sky Diving
For the ultimate adrenaline rush, tandem skydives can be arranged through Skydive Australia. The feeling of freefall, and then floating down over famous parts of the coastline such as Bells Beach just can't be put into words.
Canoeing and Kayaking
There are several fantastic options for kayaking and canoeing trips in the region. One great option is to paddle out to the seal colony near Apollo Bay – and if you're feeling really adventurous you can see if you can catch some waves back to shore afterwards! Book your kayaking trip here. 
Lake Elizabeth in the Otway Ranges is another fantastic option – you might even get to see platypus in the wild! More information is available here.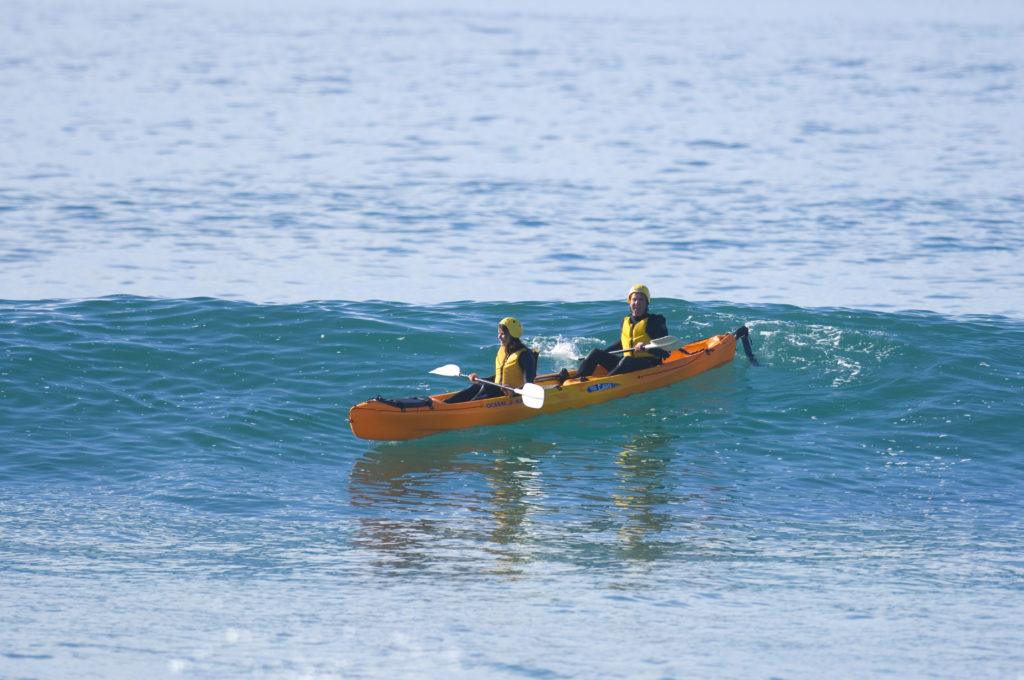 Surfing
There are countless beaches on the Great Ocean Road. In fact, we arguably have some of the best surf beaches in the whole country. Choose your location with care, as some beaches are very wild. If you're a beginner, Apollo Bay is a great area to start, with gentler waves, and there are several surf schools in the area which offer lessons.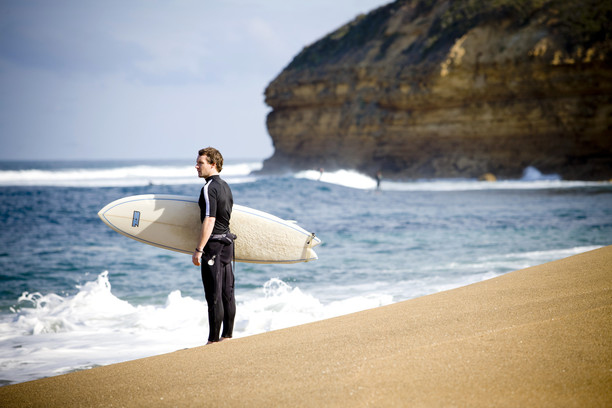 rWhere To Stay
Adventure travel combines beautifully with luxury accommodation. Treat yourself with a stay at Alkina Lodge where you can relax and indulge after each day's activities. Our accommodation is set in over 100 acres of native Australian bush, providing you with unique adventure opportunities right on your doorstep. The three lodges are architecturally designed by award-winning Australian architect Glenn Murcutt and his partner Wendy Lewin. They come with designer kitchens, a bespoke fireplace, fine European furnishings and magnificent Villeroy & Boch bath tubs – perfect for you to soak away any aches and pains from the day's adventures.  Book online here or call +61 3 5348 2008