What Is The Shipwreck Coast?
The Shipwreck Coast is a wild and beautiful stretch of coastline in southwest Victoria. It has a fascinating maritime history and it's a great place to explore.
There are hundreds of shipwrecks along the Shipwreck Coast, although it's estimated that less than a third of them have ever been discovered.
Where Is It?
You can easily get to Shipwreck Coast by car in about 3 hours from Melbourne. It stretches along the coastline for about 130kms starting from Cape Otway and ending in Port Fairy in southwest Victoria.
However, if you're staying at Alkina Lodge you'll already be here! We are situated about half way along the Shipwreck Coast with great access to many of the best sights.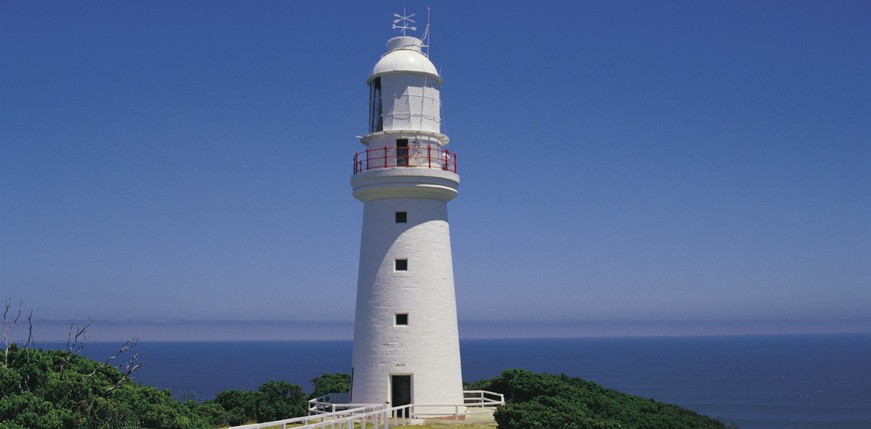 Why Are There So Many Shipwrecks Here?
In the 1600s and 1700s there were a huge number of ships in the area, both trading and bringing convicts and settlers here. The vessels were mostly wooden and fairly small in comparison to today's ships, and they relied on the strong trade winds to catch their sales and the stars to guide them, or in some cases the latest charts and maps which were often incomplete and inaccurate.
The shipwrecks were mostly caused by a combination of strong winds blowing the ships off course and into uncharted or dangerous waters, but in some cases human error and foul play had a part too. A lack of lighthouses meant there was little warning of reefs, rocky outcrops or small islands.
There were a series of inquiries in the mid 1800s which led to the construction of lighthouses.
What Is The Most Famous Shipwreck Here?
Probably the most famous is the Loch Ard, a clipper which was lost in 1878 on route from England to Melbourne.  As the ship approached Australia, a heavy fog descended and the captain mistakenly thought he was further away from land than he actually was.
He struck Mutton Bird Island, just east of Port Campbell and despite frantic rescue efforts only two people survived. A young woman named Eva Carmichael and a cabin boy named Tom Pearce were swept into a nearby cove where they spent the night before being rescued the next day.
The cove is now named Loch Ard Gorge and is a very popular and pretty tourist spot. It's definitely worth a visit!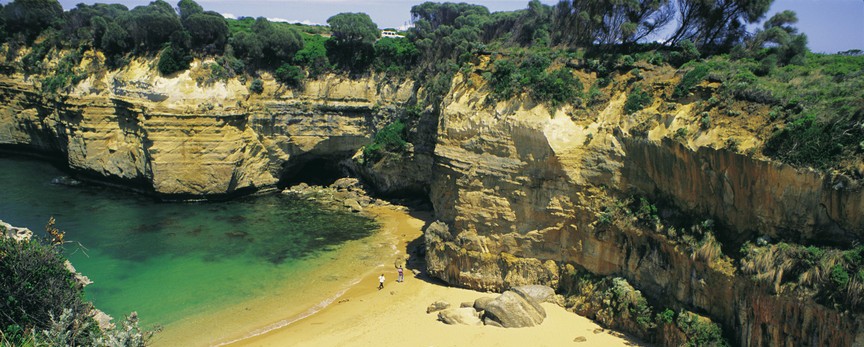 What Other Shipwrecks Can I See?
One of the most easily accessible shipwreck sites is at Godfrey Creek near Apollo Bay. Here you'll find a memorial called The Lone Sailor's Grave which marks the place where the WB Godfrey was wrecked in 1891 on its way from San Francisco to Melbourne. Incredibly, there was no loss of life on the ship itself, however sadly five men drowned during salvage operations.
Also near Apollo Bay is the wreck of the steamship SS Casino, which sank in 1932 while it was trying to dock in rough seas. Today it's a popular scuba diving site.
About 10 minutes drive from Alkina Lodge is a wild, sweeping beach called Wreck Beach. You can park in the car park and then it's a steep walk down some steps onto the beach where, at low tide, you can see the old anchors of the Marie Gabrielle and the Fiji.
If the weather is fine Wreck Beach is a great place to go rock pooling as well!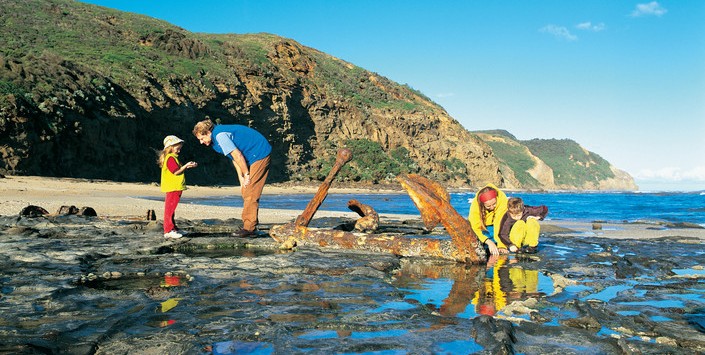 What Else Is There To See In The Area?
If you're interested in maritime history then you simply must make a trip to Cape Otway Lightstation. If you climb up to the observation deck you'll see breathtaking views of the dramatic coastline and you'll get a true feel for why this lighthouse has helped make things so much safer for ships and passengers.
We also recommend a visit to Flagstaff Hill Maritime Museum in nearby Warrnambool. At this lovely museum you'll learn the stories of hundreds of shipwrecks in the area. There's also an amazing Sound Light Show which brings to life the story of the Loch Ard shipwreck.
Of course, there's so much else to see and do along the Great Ocean Road. Click here to read about some of the region's other popular sights and activities, or browse our blog for some inspiration!
How Do I Take Great Photographs Of The Shipwreck Coast?
This area is just perfect for capturing dramatic landscape photos – with a bit of added interest in the form of shipwrecks!
Here are some of our top photography tips:
Firstly, if you're keen to take some photos of the shipwreck coast, remember to take lots of care. The ocean can be rough and unpredictable so keep yourself safe and make sure you don't slip.
Depending on the time of year and the weather conditions, you may wish to consider using a waterproof cover to protect your camera to protect it from either the rain or the pounding ocean.
Early morning is a great time to take photos, as the light is often more colourful and dramatic.
Don't be tempted to stick to colour photography. Some scenes, especially shipwrecks, can work really well in black & white or sepia tones.
Where To Eat
It's easy to work up an appetite if you're busy exploring the coastline! Some of our favourite places for lunch or an evening meal are listed below:
Forage on the Foreshore in Port Campbell has a very tasty menu, made with as local as possible ingredients.
Lavers Hill Central Cafe and Pub – just 15 minutes drive from Alkina Lodge, this cafe & pub serves breakfast, lunch and dinner. The menu's small but take it from us – you will not be disappointed!
About 45 minutes drive from Alkina Lodge is the quaint and atmospheric town of Timboon. There are some great places to eat here, but our top pick is the Timboon Rail Shed Distillery.
Where To Stay
We recommend you stay at Alkina Lodge of course!  Not only are we situated right on the Shipwreck Coast, there's also nothing better than a little bit of luxury at the end of a day's exploring. Click here to check availability or make a reservation.