There Aren't Actually Twelve Apostles
There's a bit of mystery about this famous Australian icon. Originally the Twelve Apostles were known as the Sow & Piglets, but at some point the name changed and no one really knows the reason why. It is however a bit of a misnomer as there were only actually nine limestone stacks at this point.
Then around twelve years ago, one of these collapsed due to erosion over millions of years from the weather and ocean. Today only 8 Apostles remain.
The Great Ocean Road Is Not Really A Day Trip
Theoretically it is possible to drive the length of the Great Ocean Road in one day, but we don't recommend it.
It's almost 3 hours drive from Melbourne to get to most of the key sights on the Great Ocean Road such as the Twelve Apostles, so we strongly recommend you stay here for the night and don't try to make it a day trip.
Even better, stay two nights or more – there is so much to see and do here that you won't regret it!
It's The World's Biggest War Memorial
The Great Ocean Road was built by around 3,000 returned soldiers between 1919 and 1932 and was dedicated to soldiers who were killed during World War I, making the road the world's largest war memorial.  It was a hard job: the work was done by hand using explosives, pick and shovel and wheel barrows, with tents for accommodation.
It's A Great Place To Spot Native Australian Wildlife
People don't always think of the Great Ocean Road as a wildlife destination, but in fact if you look in the right places it's a great place to search for wildlife in its natural habitat.
Here at Alkina Lodge we are regularly visited by kangaroos, wallabies, echidnas and native birdlife such as kookaburras. Not too far away you can usually see koalas at Kennett River. There's also the chance to see whales migrating past between May and October.
Click here to read about the Top 10 Wildlife Experiences on the Great Ocean Road 
The Drive Is Beautiful. Just Be Careful!
The Great Ocean Road stretches for 243 kms and is a two-lane road (one lane in each direction). It runs past dramatic coastal scenery and passes through pretty coastal villages. The speed limit ranges from 50 kmph to 100 kmph so watch for signs, and take it easy as the road winds and has some sharp turns, so it can become dangerous in poor weather conditions. Ideally you should take turns driving as the passenger will be able to enjoy some stunning views. And remember to schedule in plenty of photo stops!
6. You'll Need To Pack For All Weathers
The weather in Victoria is cooler than some other parts of Australia, and summer on the Great Ocean Road can be cooler than in Melbourne. We have quite a changeable climate and on any given day you might experience several different types of weather! On the coast there can be a cool breeze and strong sun, while in the Otway Ranges it can get humid and wet. So bring your sunscreen, lots of layers and pack a waterproof too!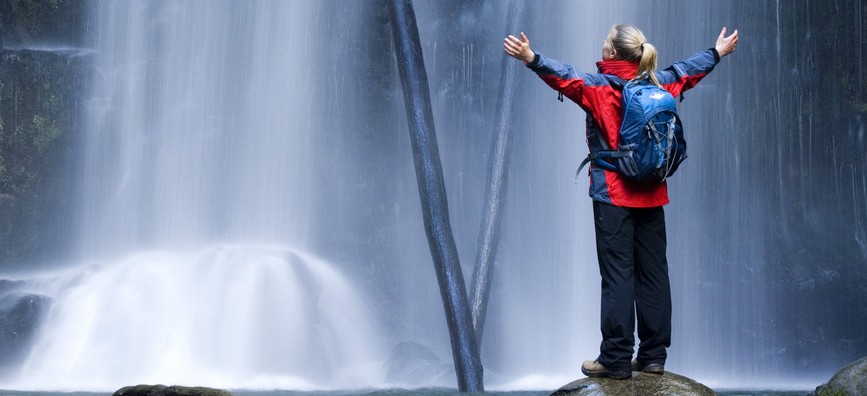 Where To Stay
Luxury accommodation is available at Alkina Lodge (+61 3 8899 7426 ; alkinalodge.com.au ), an architecturally designed lodge set in over 100 acres of native bushland.  The lodge is about 15 minutes drive from the 12 Apostles and is suitable for couples, families and groups. Prices start from $297.50 per person per night (based on twin share occupancy and excluding flights).
Getting There
The Great Ocean Road is located in Victoria and stretches for 243 kms, starting at Torquay and ending near Warrnambool. How to get there depends on which part of the Great Ocean Road you'd like to visit. However, the most famous sights such as the 12 Apostles and Port Campbell National Park are located 275 kms west of Melbourne, approximately a 4 hour drive along the Great Ocean Road.