Whether you're a bush lover or a beach lover or somewhere inbetween, the Great Ocean Road has walking tracks and trails to suit all tastes and all levels of fitness.
These are just a few of our favourites.
Loch Ard Gorge Walks
There are three easy walking tracks at Loch Ard Gorge, each with interpretive signage that explains the area's history and geology.  We recommend you allow at least three hours here so that you can do all the walking trails and really get to know this fascinating piece of coastline.
The Geology Walk focuses on the powerful forces which have shaped our coastline; the Loch Ard Wreck walk takes you to the cemetery and tells an amazing story of courage and survival; and the Living on the Edge Walk includes the majestic blowhole, Thunder Cave, Broken Head and the Muttonbird Island viewing platform.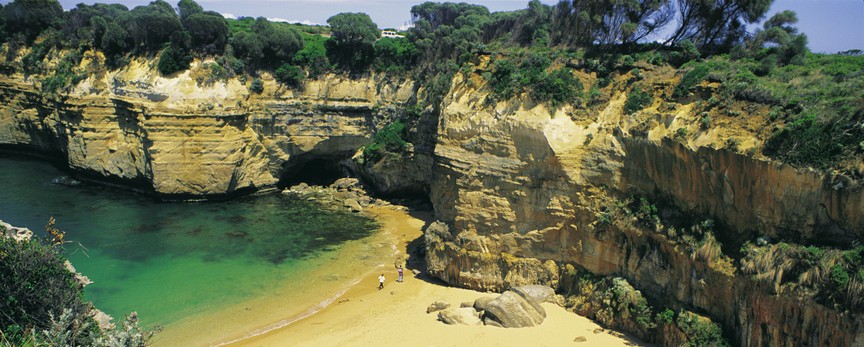 Wreck Beach Walk
This walk is difficult in places, but it's well worth the effort if you're up to the challenge! It's just a 10 minute drive to the Wreck Beach car park from Alkina Lodge. From the car park, the walking track is only about 2kms – but there are more than 350 steps to climb down, and back up again afterwards!
You should only make the walk at low tide and when the sea is calm. But if you make the effort you'll be rewarded with a breathtakingly wild beach steeped in maritime history, including the anchors of the famous shipwrecks, the Marie Gabrielle and the Fiji.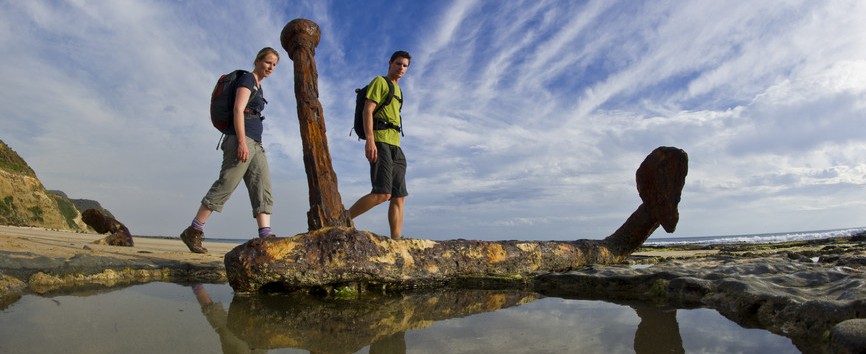 Triplet Falls Rainforest Walk, Otways
We think this is one of the most stunning walking tracks in the Otways – but you do need to be moderately fit as there are steep steps in some sections. The walk will take you about 1 hour as it passes through ancient rainforest on its approach to three spectacular waterfalls.  Don't miss this one!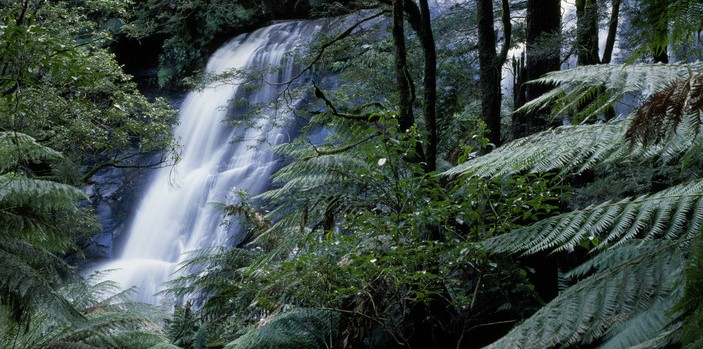 Madsen's Track Nature Walk, Melba Gully
Less than 20 minutes drive from Alkina Lodge is pretty Melba Gully. We recommend you visit at night as there are glow worms along the walking tracks here. There's an easy 35 minute walk which passes through dense rainforest, mossy areas and tree ferns. Bring your torch, but try not to shine it directly at the glow worms.

Otway Fly TreeTop Walk
You won't want to miss the world's tallest treetop walk! This fabulous walkway in the Otway Ranges is elevated 25 metres above the ground, giving you an amazing birds eye view of the rainforest. It will take you around 1 hour, and operates in most weather conditions. You'll need to purchase a ticket for this from the Otway Fly website.
Lake Elizabeth
Tranquil Lake Elizabeth is located approximately 1.5 hours drive from Alkina Lodge near the town of Forrest. The lake was actually formed when there was a landslide followed by flooding over years ago. You can choose to walk just a short section of the pretty walking tracks, or you can do the 3.5km loop of the whole lake.
If you're here at dawn or dusk and you're really lucky you might even spot the elusive platypus!
The Lookout at Cape Otway Lighthouse
The lighthouse at Cape Otway is the oldest surviving officially built lighthouse on the Australian mainland. It's less than an hour's drive from Alkina Lodge to Cape Otway and from the carpark there's an easy 40 minute walk along a gravel path that will take you to a lookout point that has great views of the lighthouse and the ocean.  We also recommend you visit the cemetery while you're there.
Great Ocean Walk
For those looking for something a little longer and more challenging, you shouldn't miss the iconic Great Ocean Walk. This 104km walking track starts at Apollo Bay and finishes at the Twelve Apostles, taking you right along our rugged and spectacular coastline. Each day is completely different and may include deserted beaches, tall clifftops and dense rainforest.
If you want to walk the whole track, it will take you about 8 days . Alternatively you can walk just a section of the track – the section nearest us at Moonlight Head is spectacular.